LEGAL* COUNSELLING
Professional Integrity
interactive
in real time

CHINA'S LARGEST ONLINE NETWORK FOR COUNSEL SEEKERS & PROVIDERS(* Also view for General / Non-Legal Counselling & Organogram ).
Online LEGAL Counselling around the world is the wave of the future , the case for Legal Counselling as well as Conflict Resolution has never been stronger.

---
The ongoing revolution in communications technology and artificial intelligence systems allow us to dispose most of our problems with a click of a mouse button. Hence, the increasing digitisation of society presents an immense opportunity to provide justice to the masses.
As more of our lives are led online, people increasingly expect that more of what they do in the physical world should be available online as well, including the resolution of their disputes. Therefore Global Counselling is both timely and considered a natural extension of this digital revolution with access to expert justice fast, and affordable. We are part of the Int'l Court for Online Conflict Resolution Inc. (ICOCR).
---
WHO WE ARE : ICOCR / e-Court.law - The domain operates actively as part of the global ICOCR - The International Court for Online Conflict Resolution. The latter organization refers to all Legal & Non-Legal services around the globe and is part of the Ottawa, Canada based the 3-D Network Co. Int'l Inc. ( 3-DNET ), a Holding Co. and online platform active in more than # 45 countries; e-DNET was incorporated in Canada on December 13th 1996 under number 3327205 ( also view Organogram. The International Court for Online Conflict was incorporated in Canada on June 24th 2016 under number 980748-9 Resolution Inc.
---
e-Court.law is a on & off-line platform active throughout the world, where Counsel Seekers are linked to independent "arms-length" participating legally trained professionals - the Counsel Providers, who can provide competent, affordable, secure, transparent, speedy counselling and other resolution. Global Counselling is composed of an independent (self employed) group of experienced professionals like (former) lawyers, barristers, solicitors or attorneys, judges, mediators, general counsel practitioners, university professors, industry and other legal interest groups.
These professionals whilst not being employees of e-Court have been thoroughly vetted prior to offering their services. View Counsel Seekers & Providers on this webpage. We are Worlds's premier facilitator & most exciting interactive, in real time 24/7 ODR/ADR Legal Network & are part of the Int'l Court for Online Conflict Resolution Inc. ( ICOCR ).
---

Who we serve :
( also view
Organogram
)
Counsel Seekers
e-Court / Peace Keeper offers a wide variety of Legal Counselling in an electronic conference room; We bring the parties together in an environment where parties can freely, confidentially present their position. We simply help to facilitate discussion.

Counsel Providers
We believe that time an experienced legal professional spends on a particular case is pure thinking, not paperwork ! At its core, many counsel duties are a form of dispute resolution. We place our member clients interests before any other parties(s) and strictly abide by our mission statement!

FURTHER-INFO


Our Mission statement :
e-Court aims to be a recognized champion for the consumer, achieving this by offering passionate and visionary values.

---
Value for Money: To offer honest, simple, and transparent pricing. Quality of Service: To offer services without compromising any of e-Courts values. Specifically to be professional and with unquestionable integrity. For the People: To offer conflict resolution services for everyone, not just those who can afford it. Challenging: To offer new and innovative ideas, to always push the boundaries of conventional thinking. Force for Good: ICOCR/e-Court would like to see itself as making a positive contribution to peoples lives and as a force for good. (ICOCR).
---

The Role of ICOCR :
The Canada based International Court for Online Conflict Resolution & Counsel filed its charter with Corporations Canada on June 24 2016 under number 980748-9, hereafter referred as ICOCR, the world's largest online e-Court Network with operations in approx. # 40 countries .

---
ICOCR supervises online Councils in more than #40 countries, such as in Canada, in the USA, in India, in the UK and so on. All share a vision of a transparent, fast and affordable "One-Stop" Online Network for Conflict Resolution and Counselling.

The ICOCR represents the "non-criminal" online legal/non-legal (mediation/arbitration & counselling) profession on national and international issues, on federal/state/provincial law and the operation of courts and tribunals. It works for the improvement of the "non-criminal" law and of the administration of justice and strictly adheres to a set of mission objectives. The ICOCR strives to represent more than 1/2 milion Legal & Mediation Professionals worldwide.

ICOCR/e-Court monitors the overall operation of its Uniform Framework and is responsible for making Uniform Rules as they apply to global e-Court operations. The Council can issue guidelines and directions about the exercise of functions by each national council (except about complaints and professional discipline).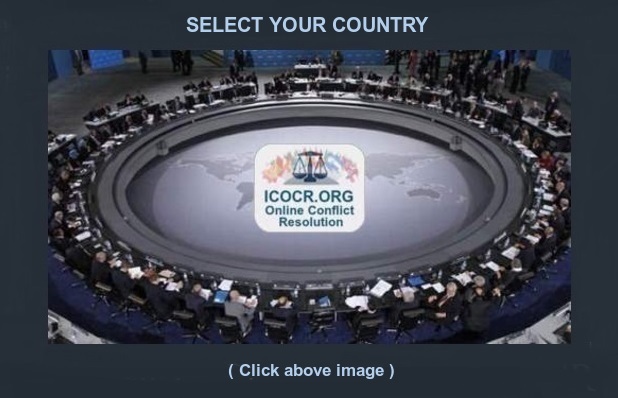 In particular the Council's objectives are to: (1) monitor the Uniform Framework's implementation and ensure that it is applied consistently and (2) ensure the Uniform Framework remains efficient, targeted and effective, and promotes the maintenance of professional standards, and ensure the Uniform Framework appropriately accounts for the interests and protection of clients of national e-Court practices. The Council consists of members drawn from participating national e-Court councils.
---

WE PROVIDE LEGAL & NON-LEGAL COUNSEL
& SOLVE CONFLICTS
AROUND THE WORLD :